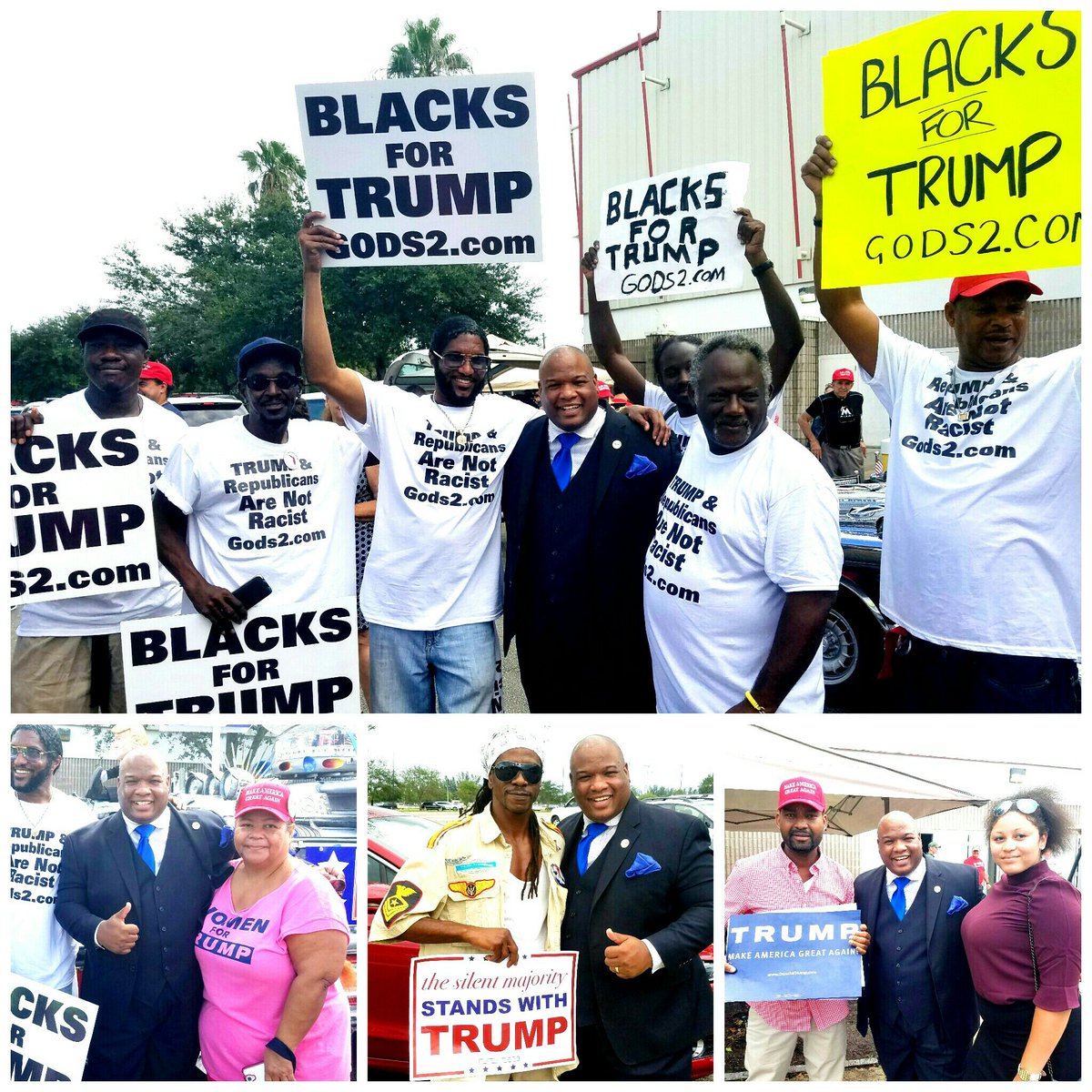 Chile this whole Trump running for president is snappin a damn mess and really reality at the same damn time. Now there are a group of Folks from a certain black community in Florida who have started up a "Black For Trump" campaign that has Folks on twitter snappin about it, and we was wonder how much did Trump pay them for this ish?! mmm
Plus find out who they are on the inside.
Okay here the deets a
ccording to Miami News time on this certain black community:
"

Thousands have retweeted photos from Trump's rally in Lakeland, Florida this afternoon showing a small group standing directly behind the Donald while enthusiastically waving "Blacks for Trump" signs.




"Blacks are for Trump and the left can't stand it,"

writes @LawlessPirate, with another pic of the sign-waving man wearing a shirt reading "Trump & Republicans Are Not Racist."




So who is this new face of Trump's elusive black support?




He's none other than Michael the Black Man, also known as Maurice Woodside or Michael Symonette, who has made waves in Miami in recent years with protests against the Democratic Party and rallies for the GOP.

He's also a former member of the murderous Yahweh ben Yahweh cult, which was led by the charismatic preacher Hulon Mitchell Jr., who was charged by the feds in 1990 with conspiracy in killings that included a gruesome beheading in the Everglades

.

"
Now check out

Black likely voters for Trump per the Rasmussen Poll
Oct 3 – 9%
Oct 6 – 12%
Oct 7 – 13%
Oct 10 – 14%
Oct 11 – 19%
Oct 12 – 19%
Oct 13 – 24%
Now here's the snappin on twitter:
1. We don't call ourselves "blacks"

2. We will never be for Trump

3. White people are behind this hashtag

#BlacksForTrump

— Uh-lee-sha (@radblackgirl) October 12, 2016
@pastormarkburns

no other sane black person, other than your congregation black folks, would be making a fool of there self.

— THE GREAT (@TheRealDevonA) October 14, 2016


Dear

#BlacksforTrump

, I would like to say on behalf of the black community, your membership card has been revoked.

— 👻ghostly trai👻 (@iamxtrai) October 12, 2016


— Baenita Applebum (@Summerlynn410) October 12, 2016
Thoughts
Leave Comments Below?