Baller Chris Bosh with his lovely Fam and rich Diddy alongside his kiddos + more celebs get dress down in their pajamas, and than dress up photo shoot glamorous to send out Christmas wishes of peace, love & happiness.

Check out the glam holiday snap inside.
Tis the season to definitely get all glam up for a fun fab Christmas photo snap and that just what Miami Heat baller Chris Bosh and wifey Adrienne who rock hot red lips with the little one Trinity, Jackson, and Dylan did sharing a beautiful festive fam photos. Pics below...
And the night before Christmas the Bosh Fam also share cute-ish P-Jamas pic...
P. Diddy get Daddy Down with his Kiddos dress in all black and Santa hats for a Combs fam photo shoot, caption:
Hope you had a day filled with love, laughter, and great family moments! I love my kids more than words can say! Best One Yet!
The cool Dad also shared cutsey pics of the twins in their p-jamas opening presents...
While Diddy's girls open their present on Xmas
morning, the boys caught our eyes in a vid on Christmas Eve:
Press play to watch...
We love it!
Beyonce shared glam holiday note wishing her fans happy , healthy holiday! BTW she rocking the hot red lips.
Then Bey sis join the holiday movement as she snap in her awesome Holiday pic caption:
Happy Holidays to my amazing Rowland Stones! - xo
Meanwhile on Christmas Eve Kevin Hart and his kids got in a their onesie p-Jamas, and the funny man shared the pic with his fans saying:
'It's just different....
"
Radio Host/comedian Rickey Smiley and his crew from his morning show rock in their Xmas p-jamas to wish their fans a Merry Xmas ! Hoooowwww funnnyyyy!!!!
Ebony Steele and Rickey Smiley snap in a silly pics, while Ebony then get pretty in pink with radio mate aka auntie Gary with the Tea...Lol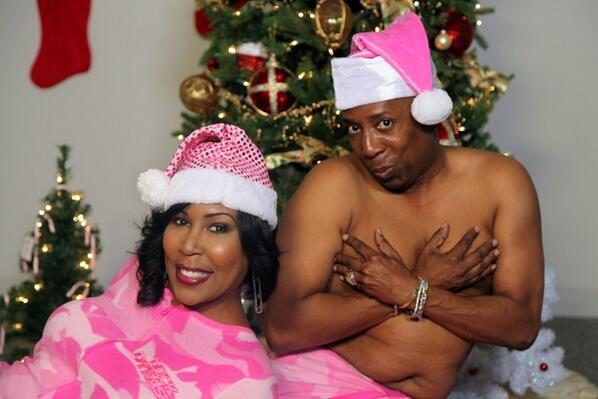 And now the whole crew photo ready in their P-jamas...
Khloe Kardashian and sister Kendall Jenner hid their faces in a selfie in which they are seen snuggled up in festive red onesies on xmas night.
Now Kardashian Clan this should have been your holiday Xmas Card... Just Saying.
Amber Rose share snaps of her 11-month-old baby boy Bash in his little p-jams playing with the toys he received from Santa on Wednesday morning.
Thoughts, Leave Comments Below?
[Photos Spotted:] Instagram,