Yes Honey! Someone is doing very good in their life. Actress Meagan Good is on the move as she

is film in

Anchorman 2: The Legend Continues.

The gorgeous actress has been making her promo rounds for the hilarious sequel, and has also graced the cover
January 2014 issue

of

Upscale Magazine, where she

keeps it diva and sexy wearing a multicolored/multi-print body conscious

dress, smiling from ear-to-ear rocking berry lip color.
The actress also told the mag that she's now more
"empowered, content, and confident"
since marrying preacher DeVon Franklin.
Also we're hearing that Mrs. Good was set to role as Whitney Houston in Biopic and she still hope to play the role.. See interview inside.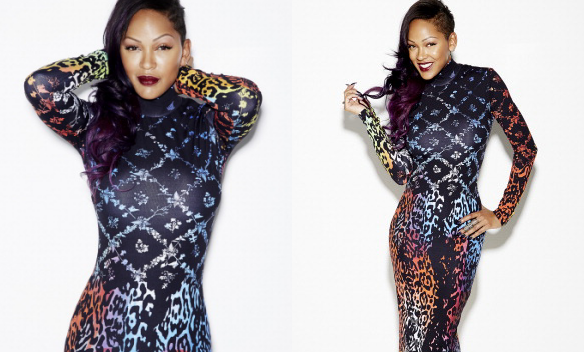 In a exclusive interview with 'The Source" Meagan Good talked about her holiday plans, marriage, "Think Like A Man Too," and Whitney Houston:
What are you doing for the holidays this year?
Meagan: I am going up to Oakland to see Devon's side of the family. He has these amazing beautiful aunties. There are six of them and they are between the ages of sixty and eight-four I think. These women they're all wearing high heels, they all still dance, they're beautiful, their skin is crazy good. They're just awesome. We do this dance off/sing off every year for Christmas, so last year I was a little too intimidated to partake. But this year Devon is putting something together and hopefully we'll win the championship. But they're pretty amazing and tough. Last year his aunt Donna did a rendition of Tina turner and I think she was 71, and she was getting it in the heels and everything. It's a good time.
You've been married for almost two years now correct?
Meagan: Almost two years now, it's been a little over a year and a half.


Does being married have an effect on your career?
Meagan: It's a little bit different because I've matured a lot. I've grown a lot. I can't say it has changed which characters I would take on because how I approach things as an actress comes from my relationship with God. I love to take complex characters when they're given to me. I love to be the bad guy or the misunderstood character or somebody who has learned something or ultimately suffers the consequence of what they didn't do. I love stuff like that. Sometimes people will be like, "Well why are you playing that character…look at what that girl does." If you look at the character you'll realize that she's been abused and she's been mistreated. Although, she may be doing bad things, she's not a bad person. I like to explore that, I think it's interesting. So, not a lot has changed for me creatively because that's always based off of what I feel. The only things I wouldn't do is something I feel God is not okay with.


Last time we saw you, you were in Vegas and you guys were twerking in the middle of the casino. You were filming "Think Like A Man Too" at the time. It was you, your husband, and your friends, how do you guys keep it fun?
Meagan: We put each other first. The industry and all that stuff, that's secondary, it takes a back seat to us. We desire the same things out of life, we have the same belief system, we both are passionate about our families, passionate about our purpose, passionate about the Kingdom of Dod, and we're both random and silly and crazy and it's literally like two college students, like a boyfriend and a girlfriend living together in a house and they're not quite old enough to be living on their own…It's amazing, he's my best friend, he is super-centered, super-focused, we balance each other, he gets things done, he's incredibly efficient and he's a planner. I on the other hand am a hippie. I'm a fly by the seat of my pants type of person. He goes "Listen Meagan, let's focus and let's get this done" and I'm like Listen honey, you need to relax, let's calm down, let's take a minute" and it's fantastic for both of us. We just try to have fun in life and enjoy each other.
If you could say anything to Oprah, what would it be?
Meagan: I love you, you're awesome, you're amazing, you're a massive influence on me as a young woman especially in this industry to strive and be the best that I can be and follow my convictions and know that sky is not even the limit.
What's a random fun fact about you that you'd like to share?
Meagan: I have two hairless cats and two monkeys. The cats are so warm and they smell like babies when you wash them….I just had to give the monkeys away a month ago.
Tell us your TV guilty pleasures?
Meagan: "Love and Hip Hop" and "Bad Girls Club"
Which one? Atlanta or NY?
Meagan: Oh gosh! Both!
Is "Think Like A Man 2" done filming?
Meagan: Yes, it's done filming, it will be out in June.
Can you give me a little tidbit about what fans can expect in the second installment?
Meagan: Well you get to see every character go into the next phase of their life, the next chapter. You get to see a lot more of the woman together. I'm hearing that it's much funnier than the first one, which I'm excited about and everyone is back with some new players as well.
Is there a character that you want to play that you haven't played, yet?
Meagan: I want to do some life stories. Probably Whitney Houston. God willing. Our birthdays were a day apart and I think that her story is pretty incredible and I understand a lot about her. If God will have it, I would love to do her life story, we will see.
Can you sing?
Meagan: No but here's the thing, I can sing alright, but you can't do that, you got to use the person's voice, it would be like Selena, it's got to actually be the artist's voice, it's what the person wants to here.
Right like when Angela did Tina Turner.
Meagan: I think it's important to use the artist that's who the people connected with…that's who touched their heart. You don't want to hear someone sing their songs you want to hear their songs. I would love to do it because it's not about the vocal chords, it's about understanding her and her life and what she was feeling and conveying that in her story.
What is your favorite Whitney song by the way?
Meagan: "I Wanna Dance With Somebody."
One of mine favorites is "I'm Your Baby Tonight."
Meagan: Ok that's definitely one of my favorites. That's the one that goes "Whatever you want from me." Yeah that one!
Watch more with the Source and Meagan here:
Meagan talk with Aresnio Hall on playing Whitney Houston, press play:
Thoughts, Leave Comments Below?