Chile get your glass of lemonade and start sippin... You won't believe which one of these Chica fall over off that building during the season finale of Empire...?! No need to wait and wonder till the next season... Find out if it's Rhonda or preggo Anika inside.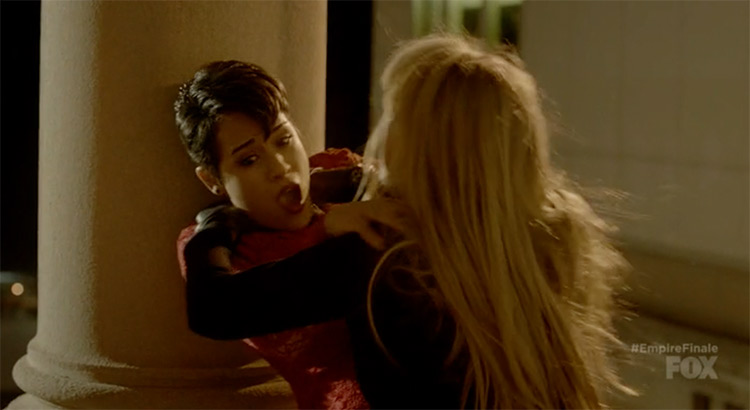 O
kay here's the snap

about you died on Empire per MTO:
Well here's the tea. Our insider was told that next season that Anika will NOT be pregnant. The insider explained, "Anika is going to lose the baby."

According to our insider, he was assured that there would be NO major cast changes – and that both Anika and Rhonda would return next season.

So the person who dies . . . is Anika's unborn child. This is a MediaTakeOut.com EXCLUSIVE

.
More Deets from MTO:
There are all kinds of rumors and speculation going around, about who died last night. For those who missed the Season FINALE of Empire, Anika (actress Grace Gealey) and Rhonda (actressKaitlin Doubleday) were fighting – and someone dies.

And the producers of Empire have already come out in public and CONFIRMED that during that fight, someone dies.

So who dies? Well MediaTakeOut.co EXCLUSIVELY has the answers. We spoke with a snitch who works for one of Empire's MAJOR sponsors – and who attended the FOX UPFRONTS on Tuesday. First off, we just want to make sure y'all know that BOTH Grace Gealey and Kaitlin Doubleday were in attendance – promoting NEXT SEASON of Empire. (See below)
We kind of figure Boo-Boo Kitty will lose the baby...