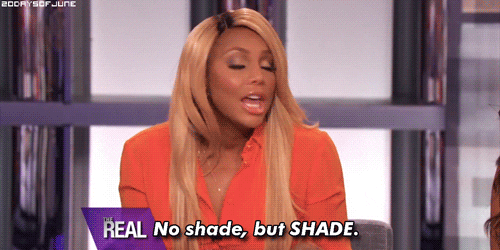 The hate among friends is really real out here!
Tamar Braxton took to the Gram Saturday night to snapped about a "betrayal" of an backstabbing somebody near and dear that she

"stupidly trusted."
got her fired from the hot day time talk show "The Real" ... smh...

Read more inside.
Taytay took to the Gram to let it be known about her exit from the show... the singer wrote:
"

I love u all but I have been stabbed in the back by someone I stupidly trusted ( not my man or my sisters) I am not about to be tried and tested to snitch () and it's not in good taste to tell you who...... but as you are very smart and can figure things out on your own. But know that every one who smiles in your face is NOT your friend and is NOT cheering for you and will LIE and try and tear u down to TRY and dim your light. Thank GOD HE HOLDS MY FUTURE AND MY HAND! (Remember who u are)....I am Tamar Braxton. And if you thought for 1 sec u played me.....In the late great prince and the amazing Beyoncé voice you PLAYED yourself to God be the Glory and I will be taking a short break from ALL social media...until then️ yourself and WATCH YOUR BACK ( I put this picture up cause this is the embrace I got from my sister and best friend that she ALWAYS gives when she knows I've been had)"



In this recent pic above it looked quite like there was Clicks forms amongst the Hostress as you can see Taytay and Tamera Clicked-up on one end and Loni,

Jeannie

, and

Adrienne

on thee other... Mmm huh!.
Any who,
from what we been hearing Folks had been tune in to the show because of Tamar, so we're like down goes the rating!
Your Thoughts,
Leave Comments Below?