Thee snappin on Nicki Minaj attend the 2015 MTV VMAS on Sunday night in a gorgeous super sexy elegant gold embellished sheer Gown which showed off her curvalicious body. And we still trying to get our stomach tight and right so we can stun like Nicki one-day… Ha!

Check out Nicki Minaj beautiful gown. Plus also find out why Nicki snapped on Miley Cyrus inside.
The 32-year-old rapper looked stunning and elegance in her hugging-figuring gold floor-length gown by Labourjoisie… *Diva Snaps*… to Nicki Haute gown…Pop Those Fingers!
See more pics plus catch the Nicki, Miley snappin below...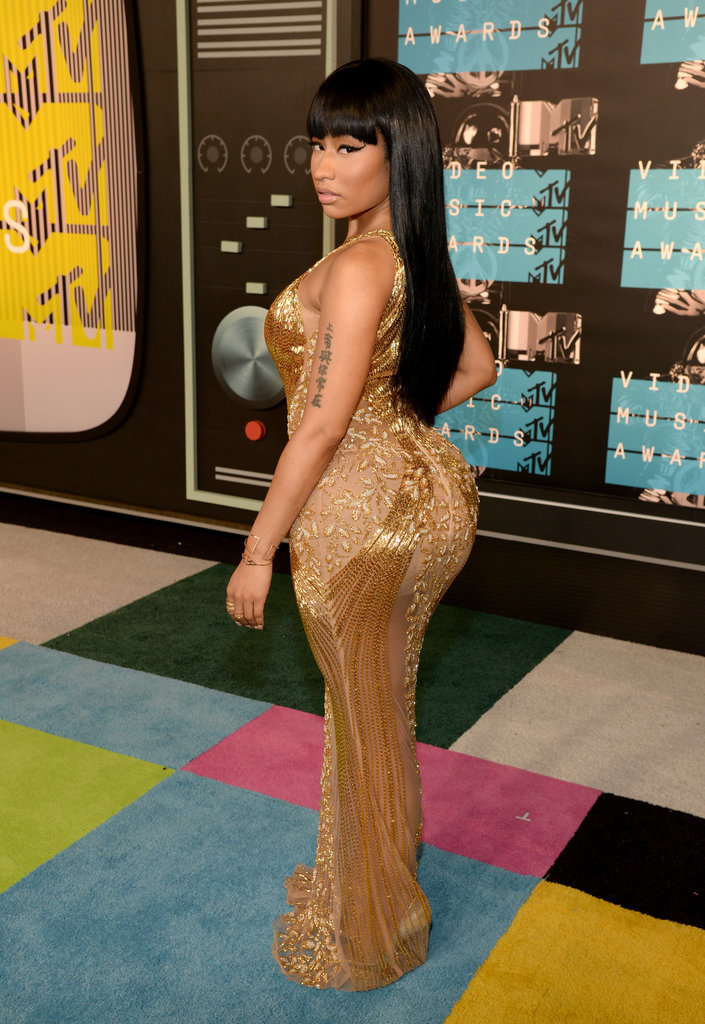 Okay here's the snap report O. Mail:
"Nicki Minaj called out Miley Cyrus a 'b****' during her acceptance speech at the MTV Video Music Awards.
The 32-year-old rapper made it a point to call out the 22-year-old singer, who was serving as host for the evening, shortly after receiving the award for Best Hip-Hop video at the gala held in Los Angeles on Sunday night.
Toward the end of her speech the Starships rapper said: 'And now back to this b**** that had a lot to say to me in the press. What's good?'"
"The 22-year-old Party In The USA hitmaker, who was standing on a different platform on-stage replied by saying: 'We are all in this industry, we all do interviews and we all know how they manipulate s***. Nicki congratulations.'
Several viewers believed that the confrontation may have actually been staged as Nicki flashed a smile before the camera turned to Miley.
However, a fan recorded video from the MTV live stream showed Miley's reaction to what the Truffle Butter hitmaker had to say as her relaxed demeanor quickly changed when Nicki began talking about her.
Miley had a confused look on her face from underneath a see-through orange visor as she could be seen doing a double-take before saying: 'what?"
What spark this snappin is that Miley made some comments doing her MTV VMA promo. Regarding Nicki's comments about "Anaconda" not being celebrated because it doesn't promote slim bodies, Miley said:
"If you do things with an open heart and you come at things with love, you would be heard and I would respect your statement. But I don't respect your statement because of the anger that came with it," Cyrus said. "And it's not anger like, 'Guys, I'm frustrated about some things that are a bigger issue.' You made it about you. Not to sound like a bitch, but that's like, 'Eh, I didn't get my VMA.
"What I read sounded very Nicki Minaj, which, if you know Nicki Minaj is not too kind. It's not very polite," Cyrus said. "I think there's a way you speak to people with openness and love. You don't have to start this pop staragainst pop star war. It became Nicki Minaj and Taylor in a fight, so now the story isn't even on what you wanted it to be about… I know you can make it seem like, 'Oh I just don't understand because I'm a white pop star.' I know the statistics. I know what's going on in the world. But to be honest, I don't think MTV did that on purpose."
Your Thoughts,
Leave Comments Below?