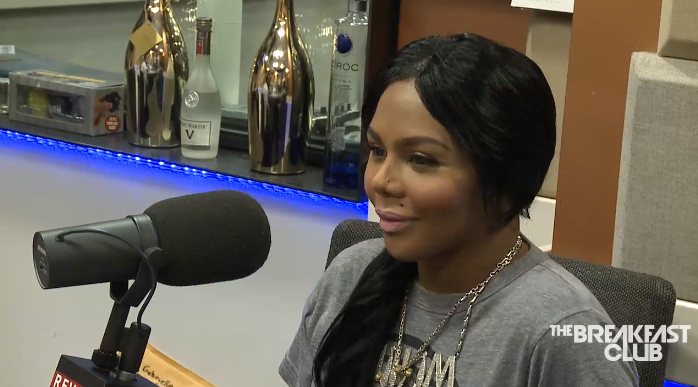 Okay here's the
snappin highlights:
On K Michelle being the godmother to her child:

"That chick is a bag of pecans. A trailmix. You know when you eating a trailmix and all the nuts you like you eat and the nuts that you can't stand you put them back in the bag. She's the bag of nuts you put back in the bag. Like a black jelly bean. She is NUTS. She is so nuts you are liable to see her skipping. Who skips? Why would I ever make her my child's godmother? I've only met this woman one time…one time in person. We talked on the phone after that because she was a fan of mine. We never had a conversation about her being my child's godmom. I DON'T know you. Why would I do that?"




On her Twitter beef with K. Michelle:

"If she had called me we would have never been in that predicament. Out of respect for our relationship [that we were trying to build] I would have said something to my fans if she had called me, texted me. When I watched what she was saying I said 'this chick is having a conversation with herself?' She never called me. The chick is sour because she's a huge fan of mine. She's been bitter and sour because you guys had 105 Power last year. I performed with Kendrick [Lamar] I was suppose to perform with K. Michelle but the sprinter got lost. Kendrick's people had been in contact with my people all day and they wanted me to come out before. But we was like we were suppose to come out with K. Michelle and it just never happened and she was sour pissed. I still came in her room, and told her 'we gone make this up. That wasn't my people. When you don't know people in this industry they show who they really are and that's why I don't really get close with people in this industry."




"It definitely has changed me because I don't give a f*ck. It helps me. I'm more shrewd. It helps me getting to the money really really fast."




On being friends with Maino again:

"Maino's the big homie from Brooklyn. I always support my Brooklyn Knights."




On Biggie ghostwriting for her:

"Biggie was always instrumental in everything I did, but I gets busy, everyone knows that. If you're with a genius, the king of the world, the biggest rapper at the time why wouldn't you get assistance from the best man who ever did it?"




On why it takes her long to come out with music:

"It use to take me so long to put out music because I wanted to do everything myself." And the reason it took so long for her new Hardcore mixtape to come out: "I didn't know I was pregnant."




On her bullying Nicki Minaj:

"How could you ever say that when she made the first record towards me? But what do you mean squashed? She been waiting so long to say the word Queen Bee because that's how obsessed she is. She's been waiting to say that. Come on, you're on a record with Beyonce. If I'm on a record with Beyonce I'm not saying nothing remotely close to this chick to even think that I'm talking about [her]. We all know what it is. It's so deep that when I finish putting together this documentary everyone will fully understand."




"I was over there [Young Money]. People seen me over there. We were going to do a joint venture together. I did a song with Birdman and her [Nicki Minaj]. But they snatched it back because I guess my presence was a little bit more felt to the fans. So what I'm Kim? That's going to happen. Did you guys knows the record "No Worries" the guy [Detail] who did that, that was my producer. I sent him over there. I introduced him. I had him working with them. That record was written by my brother-in-law. "How to Love" was written by my brother-in-law. Actually not Wayne's verse on "No Worries" but the "How to Love", my brother-in-law wrote that. The thing is I'm Kim, so when I attack back I'm the big bad wolf."




On Nicki referencing Beyonce when she said Queen Bee on the "Flawless" remix:

"Let's be real. First of all, I love Beyonce and rightfully so she's definitely the Queen Beyonce. She's the Queen Beyonce but you knew me when I first came out. What's my name? Who are my fans? The Beehive. What did I always rep? The Beehive. No one likes to give me my rightfully due props on anything. Everyone wants to take something from me and make it seem like I never had nothing to do with it. I think we can all share things because when you're a queen at what you do, you're just a queen at what you do. But let's just be real, she took the first shot. It's always been like that. She's been throwing shots and still throwing shots."




On Nicki being subtle with her shots at Kim:

"I'm not going to play these games, I'm going to get straight to the money. I'm not going to let you spin people. Everybody who is into Hip Hop, everybody know what it is. Let's just be real."




On Big Fendi once managing Nicki then managing Kim:

"She was messing with all my people first. She was messing with Diddy first before me and Fendi even [linked up]."




"We aight. We ain't got no problems."




On not wanting to be signed to major:

"Nah, I don't want to. And see that's the thing with the other situation [Nicki] it's not me against her, it's me against the machine. That's easy, she would be light work for me. But when you compare what I'm doing right now to that machine it's not going to look fair. If I had that same machine behind me then you would see what's up.




On Rah Digga saying Iggy Azalea isn't real Hip Hop:

"I like her. Everybody got their own opinion. I don't really be having problems like that. Every girl that have problems with me, have problems with me. I like Iggy cause I think she got the love for it. I think she got the sass and the lil swag that she need. I like her."




On working with Miley Cyrus:

"She sent me a record. It's a dope record actually, she's playing the piano on it too, it's really nice. But she be all over the world, so I can't really get her in the studio. I sent her the verse and she went crazy, she loved it. I think she is trying to keep it for something she's doing. I love her, that's my baby."




On if her and Mr. Papers still together:

"Oh, please come on. Hardcore 2014"




On her aborting her child with Biggie:

"I definitely was. I don't know if I have regrets about not keeping it. You know, sometimes I do, sometimes I don't. But then I say, I don't know what would have happened to my career."




On when her documentary is going to drop:

"It's going to be dropping soon. Probably at the end of the year or at the top of the year."




Then Big Fendi (who now manages Kim and once managed Nicki Minaj) jumped in the interview to spill some tea on how Nicki dissed him. He said he helped to create her image and build her career to what it is today. Here are Fendi's highlights:




On Nicki offering him a finders fee of $15,000:

"Nah, I didn't get no finders fee. I didn't get nothing. Nicki tried to offer me a finders fee of $15,000, I laughed at it."




On using his company's name for Diddy's group Dirty Money:

"Yea he gave me a lil check. I didn't really rob him. Yea Diddy called me up asking to use my [production] company name for the name of his group. You know Diddy be having that side work, paper work sitting around. I ain't wit that old school Diddy contract. But I signed it though. It was more then what Nicki offered."




On owning Nicki's trademark:

"Actually I own the trademark for Nicki Minaj. I own NickiMinaj.com, so in a minute you're going to see a lot of things coming off those shelves. I can do whatever I want to do with it. How you a mega star and you don't own your own domain name?"




On how Nicki went from Fendi to Deb Antney to Lil Wayne:

"Nicki's a groupie. Nicki started with me in 06-07. I met her on MySpace. I changed her name to Nicki Minaj. We started off like that. She's actually still signed to my production company which is Dirty Money. I got the Young Money deal in like 70 days. When I got the contract Nicki started ducking me. Wayne gave me one of those Cash Money deals from the 80s…no royalities on it, no advance. I told Nicki I wasn't going to let her do that to herself. She started crying. Nicki might have a better contract now, through all her grouping she found her way. I made Wayne host a mixtape called 'Sucka Free'. We got the mixtape done. The President of Young Money then calls me and asked me why is Nicki out here on the 'I Am Music' tour without you. So I flew out, to a date they had in Chicago. I saw Nicki and was like 'what's up?' she walked right past me. She was like 'Oh, Debbie [Waka Flocka's mom] said..' So I'm like this is a good deal…I had a plan to put it together. So Debbie called me up two weeks later like 'I like your artist we need to set up a meeting.' I had a birthday party in North Carolina, Debbie called me up and was like we can't make the party on Sunday, can we fly Nicki to Atlanta? Nicki went out there and Debbie brainwashed her. Next thing you know, I get another phone call and she signed to Young Money. How did she get rid of Dirty Money off the contract?"




On Safaree "SB" Samuels [Nicki's alleged boo] being gay:

"That's when Safari…the lil gay guy. He got to be gay he letting her run him over. Ain't no real man running around here acting like that. He hit me up telling me Nicki wanted to send him some money. I was excited. When she called me up I thought we was about to get right. I was scared to ask how much it was for. So I'm like ok cool. They asking for W-9s. I got a phone call from her accountant a month later and she said Nicki wanted to wire you some money. She was like $15,000. My feelings was hurt. I was like 'y'all can't be serious' How do you create an image, put it together, bring it to life. I put her with Young Money, I did everything and she offers me $15K? The money actually came. But she's been ducking me ever since."




Kim

: "I never had a problem. She just wanted to be out there by herself. I think she just wanted to become me and make it seem like I had passed away, like I'm done because she wanted to be out there by herself. I bet you now she's like damn, cause it's lonely out there by yourself."




Fendi

: "If you listen to the lyrics on the Beyonce record [Flawless], she says 'these b*tches washed up aint no soap involved' who she talking bout? Is she talking about Beyonce? So if she's rapping with Beyonce why are you talking about anybody on a record with Beyonce? You should be talking about your p*ssy for a hour or two."




On bringing Lil Kim and Nicki Minaj together on a track:

Fendi: "It wouldn't work because if we had paper work involved she would probably duck it for a while and then we wouldn't get paid anyway."
Well alright now there it went... Scroll below to watch interview & check more pics of Kim...
The Queen Bee hit the stage at BB Kings in NYC last night with Fabolous for a surprise performance and snapped it up with Styles P and Jadakiss (atop), newcomer Bobby Shmurda and her manager Big Fendi before rocking the mic.
Any Thoughts,
Leave Comments Below?
[Photo Snap:]
IG, O. Mail