The proud dads reality star Peter Gunz and singer Omarion took to instagram this week to shared some precious snaps of their bundles of joys... It's a Girl for Peter Gunz and wifey-boo Amina BuddaFly and Omarian and his girlfriend-boo welcome a baby Boy during a home birth...

See the adorable little ones cuddle in their Dads arms, inside

... How sweet!
Peter shared the newborn pics of his 4th daughter on instagram on Wednesday with caption:
"MY WCW"
New Mom Amina also shared the same pics to her instagram as well as two other pics below with one saying:
"
Hello! #feet,
"
Amina captioned the photo. While her little bundle's legs rested on her tummy. Cute-ish!
Look like Amina is adjusting to Motherhood well, since giving birth 2 weeks ago.
Former B2K singer Omarion has officially welcomed his first child, a boy with his long-time girlfriend who is also a singer name Apryl Jones on Thursday. The 29 year-old shared a pics with his son named... Megaa Omari Grandberry on instagram congratulating the new mom

on delivering Megaa at home with no drugs

saying:
"World. Allow me to introduce. MEGAA OMARI GRANDBERRY. He is 7 pounds. 4oz & 20 inches long. My son I've been waiting on you. God is the realist!! I witnessed a miracle. My soul mate @aprylsjones is so strong! Not only did she have a un medicated birth (no drugs) she did it at home. Naturally. Just like my mom had me. I love you. thank you for having my legacy. I'll forever belong to you & you will forever be tied to me. Creating a child takes no love or skill but being a parent requires lots of both. Thanks for watching me grow. #MEGAAhome #OmarionsonMEGAA #donthateonmysonsnameillkillya #Nolol #royalObloodline #blasain #mysongotgoodhair #freshpitthewombhandsom alright. I love y'all.
The brave new mom Apryl also tweeted:
"These two are my everything..... @1omarion I love you baby! He's
here"
And
2 days ago...
Omari snapped to
his Instagram followers that Apryl was ready to go into labor.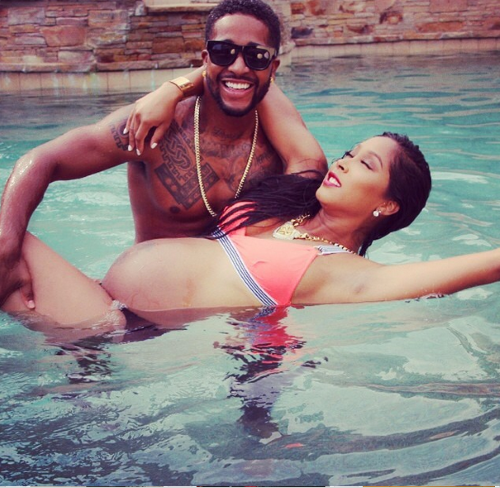 Caption:
Babe @aprylsjones just broke. #abouttobeafather #wish us health. Bless up!"