New mom Ciara is now debuting her new faux dreadlock hair style that inspire from fiancé-boo s on her Instagram on Saturday, and Ci-Ci is looking oh so cute-ish as she rock out in her sleek blonde locks for more edgy look as she return back to the money Calvin Klein.

See more pics of Ci-ci lock inside.
Plus see a new pic the little bundle of blue baby Future.
We think it so cool-ish to have matching things with your boo. Ci-Ci is giving us lady Future and letting it be known that Future is indeed her man-boo, regardless of what you hear... Boom!
The 28 year singer is werking her matching dreadlocks which she debuted on instagram over the

weekend, captioning the above photo:
"Back 2 Work and I'm Obsessed… :) Thanks @italozucchelli and @Calvin Klein.
♥
You Guys! Xx
"
The Calvin Klein Twitter account

retweeted

the image and wrote:
"Obsessed with @Ciara in Fall 2014

Calvin Klein Collection

," which have many speculating that Ciara is "Back 2 Work" modeling the

new Calvin Klein

line.
Ciara added three more photos that also look to be from a professional shoot, describing one with

"Sunny Sundays:)"

one with

"Attitude:)"

and the other with just a

smiley face.
Scroll below to see more pics & baby Future.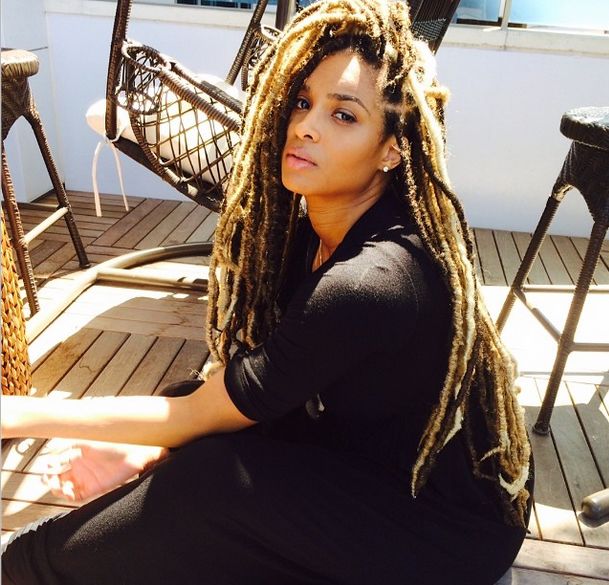 Ciara has been styling the dreadlock for a while now as we previous reported.
See below new pic of baby Future oh so yummy self...
BTW: Ciara is looking like Dutchess from reality show Black Ink...
DO YOU SEE IT??
Watch the Tutorial below on how you can get the do:
Check out this
Tutorial
for temporary dreadlocks: