She fake it, till she make it, and bol is she making it!
Word around the way has it that 'Real housewives of Atlanta' star Kenya Moore cute-ish little puppy-pooh Velvet is alive and well, and is chillin somewhere with her Bestie. Word also has it that Kenya is lying agian said she fake her pup death to keep her spot on the show and for more rating... Can y'all believe this?! Get more on this inside.
Okay here the snap per Straight from the A:
"Word on the curb is that Kenya Moore of The Real Housewives of Atlanta may be lying about yet another storyline.
During last week episode, Moore invited Cynthia Bailey and Kandi Burruss out to lunch because she had a shocking announcement to make.
Kenya announced her dog
"
Velvet had died after 7 years of faithful service, both Cynthia & Kandi were shocked but it seems many fans of the top rated reality show aren't buying Kenya's story.
According to the tweets, Velvet is very much alive & well and chilling on the West coast with Kenya's BFF Brandon!
Kenya's BFF Brandon DeShazer poses with Velvet at his home in California last year prior to her untimely demise but according to the tweets, Velvet is actually alive and well and is still chillaxin on the West coast in Brandon's care…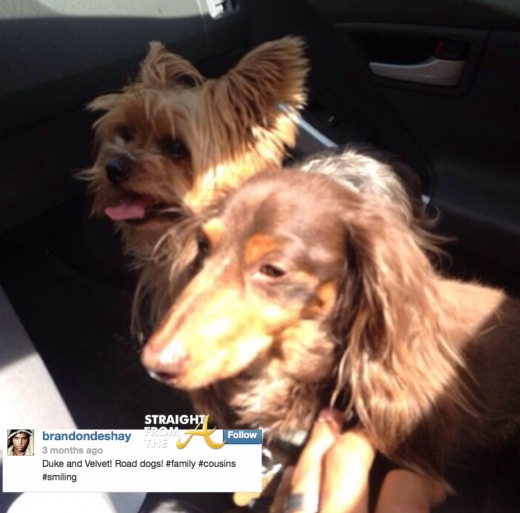 "You may remember Brandon as the 'friend' who got the party poppin during Nene's 'Pillow Talk' event.
Brandon posted the photo above on his instagram January 14, 2014… well AFTER the taping of Kenya's announcement to the ladies that her dog had passed away after being attacked by her neighbor's dog.
Now Brandon has hit the tweets with an explanation now that he's got his friend called out, stating that the photo is a repost from March 2013."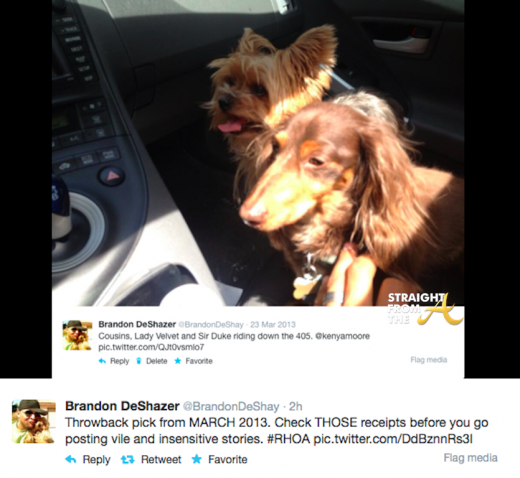 In other RHOA news, check the sneek peek of Season six Reunion show & NeNe interview with Andy Cohen below...
Porsha & Kenya square off at the reunion:
Kenya confronts Phaedra about the "scrambled eggs" comment:
NeNe throws major shade at Cynthia:
So is Nene kicking her BFF off the show: