First if we must say.... Wow Lawd! That's a big Nephew....!
Now that we got that out; moving right along. The nephew who name is Gai Scott that shot Uncle Benzino is speaking out on why he did...

See what he snapped inside.
Here the snap report The YBF:
A shooting occurred over the weekend which left "LAHH ATL" star Benzino in the hospital and his nephew, Gai Scott, with an armed assault with intent to murder charge. Benzino got caught in gunfire as he traveled to his mother's funeral in which he blames his nephew for. Zino said recently:
"In the past I felt like, yes, I felt like my sister and my nephew was taking advantage of my mother. Yes. I spoke up about it years ago. There had been loans taken out on her house.

"
Shocking to read that someone's nephew would shoot them as they go to bury their mother, but now Gai is speaking out on

why

he did it.
According to Gai, he shot Benzino because he feared for his life after Benzino allegedly sent threatening text messages saying he was going to kill him.
"I shot at him; I was in fear for my wife and a baby. He's been threatening my life."
According to the Boston Globe, Benzino had started sending threatening text messages in the week before the shooting and that's what prompted Gai (who is a legal gun owner) to purchase a gun. Gai claims when he pulled up alongside his uncle, Benzino verbally threatened to kill him. He allegedly saw Benzino flash a gun and that's when he grabbed his own gun and shot at his uncle. After his 9mm Walther pistol ran out of ammunition, he started firing a .45-caliber gun.
Gai will go before a judge today for a hearing in Plymouth District Court.
Goodness! Surely doesn't

sound

like clear cut self-defense, but that's for a court of law to determine.
Meanwhile, Benzino is happy to be home, showing off his bullet wounds and seems to be recovering just fine: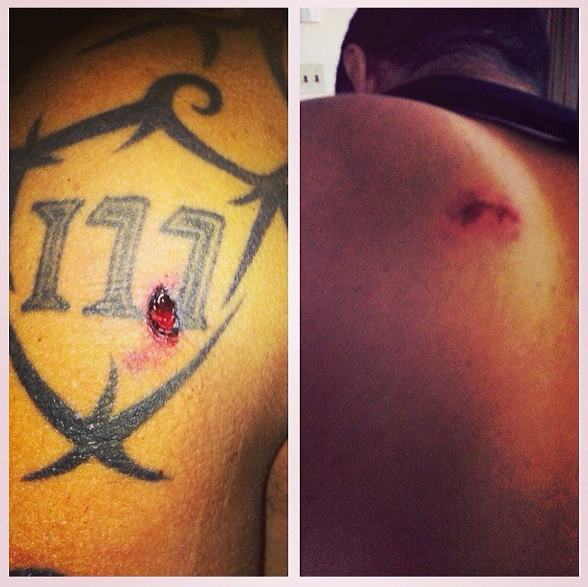 He captioned,
"The one on the left went through the MadeMen shield and broke my bone, and still in there, the one on the right luckily just grazed my back #blessed"
Watch Clip here: