After Nene Leakes and Cynthia Bailey was beefing on part II of the Reunion show Sunday night. Cynthia hit up on late now show "What Happen Lives" where she snap more on her and Nene friendship, which made Leakes snap on twitter, instagram and her blog so publicly, that she stated on live TV that she did not want to discuss her and Cynthia beef in the public eye.... which she end up doing any ways.
See Nene snap on at Cynthia inside.
The drama continue off the screen as Nene felt the need to respond back to a fabulous looking Cynthia remarks on the late night show with Andy Cohen and guest Rita Ora. This is what Nene had to share in full public details:
AS HOPEFUL AS I WAS 4 US 2 BE LIFE FRIENDS I'AM NOT SURPRISED OUR FRIENDSHIP HAS ENDED & IT TRULY SADDEN ME! REALITY FRIENDSHIPS NEVER LAST ANYWAY SO HOW FOOLISH WAS I TO THINK I HAD MADE SOMETHING SPECIAL! IT'S AMAZING WHAT PEOPLE R WILLING 2 DO 4 THE LOVE OF MONEY

, RELEVANCY & 2 STAY ON TV.

WITH CYNTHIA'S SELL OUT PERSONALITY & BLOW WITH THE WIND PERSONA I KNEW IT WAS ONLY A MATTER OF TIME! IT'S ALWAYS THE ONES THAT R THE CLOSEST TO U THAT WILL TURN ON U! I WAS TOTALLY BLINDSIDED BY ALL THIS! YES I SAID PETER WAS ACTING LIKE A BIOTCH N EARLY OCTOBER OF LAST YEAR & I HAVE APOLOGIZED NUMEROUS TIMES 4 IT! CYNTHIA & PETER ACCEPTED MY APOLOGY & WE SIMPLY MOVED ON! YES MOVED ON 2 TALKIN, TRAVELING & TEXTING SEVERAL TIMES A DAY AS WE ALWAYS DID! THE 4 OF US WENT 2 DINNER, CYNTHIA HOSTED MY CURVY GIRLS MODEL CALL @ BAR ONE & PETER WAS THERE 2 HELP OUT! THEY WERE @ THE HOSPITAL WITH ME, THEY SPENT THANKSGIVING @ MY HOME, WE CELEBRATED NEW YEARS EVE TOGETHER N VEGAS, WE WERE HANGING OUT TOGETHER DURING FASHION WEEK! SHE ATTENDED THE RED DRESS HEART TRUTH FASHION SHOW WITH ME & MICHAEL COSTELLO'S FASHION SHOW, WE CELEBRATED HER AN EARLY BIRTHDAY BRUNCH IN NYC @ LAVO! WHEN THE EPISODE AIRED 4 ALL 2 SEE & TWITTER-VERSE HAD THEIR SAY I GUESS SHE CHANGED HER MIND & DECIDED SHE NEEDED 2 BE MAD NEARLY 6 MONTHS LATER!.....I KNOW U TRYIN 2 PULL THE SYMPATHY CARD BUT IF U WERE SUCH A GOOD FRIEND? Y DIDNT U PULL ME ASIDE & TALK 2 ME ABT HOW U WERE FEELING INSTEAD OF DICING OUR FRIENDSHIP UP N FRONT OF A BUNCH OF PEOPLE WHO DONT CARE! SURELY I'AM WORTHY OF THAT CONSIDERING I HAVE CARRIED U ON MY BACK! I CAN ADMIT WHEN SOMETHING HURTS THE SAME WAY I CAN APOLOGIZE WHEN I'AM WRONG BUT HEY WHO CARES ABT A STUPID FRIENDSHIP WHEN U NEED 2 SECURE ANOTHER SEASON ON THE SHOW! THE SADDEST THING ABT BETRAYAL IS THAT IT NEVER COMES FROM THE ENEMY! 4 THE RECORD I DONT HATE U! I JUST HATE U TURNED INTO EVERYTHING U SAID U WOULD NEVER BE! GOOD BYE FRIEND!....PS: IF U OR ANYONE ELSE THINKS THE DEMISE OF OUR FRIENDSHIP IS YOUR STORY LINE 4 SEASON 7, THINK AGAIN FLIP FLOPPER"
Dang she wrote an essay! Breathe Nene Breathe Lol.... But wait there's more Nene then posted: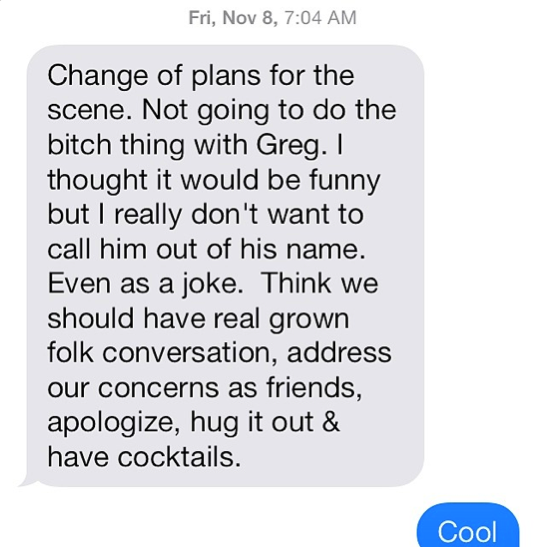 And the more reason behind why Nene went there is when Cynthia appeared on "WWHL" she called Leakes her worst enemy.

Watch the clips and see what Cynitha snap below....
Cynthia gave her side of the NeNe fallout and said:

"I want people to know I was a very loyal friend to NeNe. However, I'm actually glad that she did that. It validated that she was never my friend she is actually my worst enemy. For her to go on national television and say such things it's just unheard of. We're not talking anymore, so that just means now all of the sudden I shouldn't be on the show because you (NeNe) think I shouldn't be on the show? NeNe doesn't control my destiny. God controls my destiny. I was relevant before the show, I'm relevant on the show and I will be relevant after the show."
What does Cynthia need from NeNe?

"It's about respect and accountability. She never thinks she's wrong about anything. she never wants to admit when she's wrong."

Cynthia also had a few words for NeNe (who suggesed that she be fired):
Press play here to watch the clips
Part III of the "RHOA" reunion airs SUnday at 7/8E. In the meantime, watch Cynthia call NeNe her worst enemy:
We hope these two work out their beefship! And be friends again.