*D
iva Snap*
red lips:
It's the Fall season and it time to go all out and about
to be a trendsetter this season
with us Diva on our fave trend of the Hot Red Lips Effect!
We are so happy to announce *Diva Snap* trending season of the Hot Red Lips Effect Ladies! ~
Yay!!!! ~ Click inside for full beauty tips on how to style your life with the red lipstick.
Click the snap below to read on...
Yes Divas the
Fall has came in
full speed and remember when we first start
up our site we snap it off with our signature logo labeling it as the
Hot Red Lips Effect. Be
cause we so love stepping out with attractive red lipstick, and we will just
love it if you get out of the shy zone and t
ag us on facebook, Instagram or email us a picture
to show off your
Snappin Hot Red Lips
on our Social media walls
or if you are
cute-ish, and popping fashionable with your red lips we will give you a

*Diva Snap*

and feature your picture to our site as a Trendsetter...
Peep below of C
elebs Divas
have been on point with the hot red lips this year.
Scroll down for tips...
We have provide some Easy Tips for Wearing Red Lipstick per realsimple.com:
Consider the lighting.

"If you're going to be outdoors, pick a softer or sheerer shade," says Rachel Lockhart, owner of Rachel's Makeup Studio, in Boston. "For evening, go bolder, so your features stand out."
Avoid deep reds if you have thin lips.

They tend to make lips look smaller
Experiment with intense shades if you have strong coloring.

"Natural contrast gives you more options," says Jill Morton, head of ColorCom, a consultation agency in Honolulu, says of those with exaggerated natural coloring (for example, paper-white skin, black hair, and blue eyes).
Don't play up your eyes

. "Pair red lipstick with the lightest possible eye makeup," says lipstick designer Poppy King. A little mascara and beige shadow will do.
Don't toss a red lipstick in a shade that doesn't work.

"Top it with a gold gloss to warm and soften it, or add a pink gloss to take it to the bluer side," says makeup artist Maria Verel.
Coordinate your look.

Dot a little smudge of the lipstick on the apples of your cheeks, then blend it with your fingers.
Be precise.

That means whether you're using a brush or applying lipstick straight from the tube. "Red lipstick should never be applied casually in the back of a taxi," says Verel.
Don't use red lip liner.

If it doesn't match your lipstick perfectly (and odds are it won't), you'll end up with a two-tone effect. If you like using liner, find a shade that's close to your natural lip color and use it to outline your lips.
Prevent "bleeding."

Apply a little concealer around the border of your mouth.
Avoid getting lipstick on your teeth.

After applying, put your finger in your mouth, purse your lips around it, then slowly pull it out to remove excess color.
So as we spot
those Red lips best believe we will *Diva Snap* you so get ready to pop those Fingers.
"Come on Ladies Lets Bring out the Inner Diva that in all of us". Email your pic to:
DivaSnap.com@gmail.com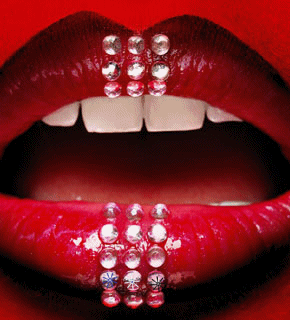 LET'S KEEP THE TREND SNAPPIN!