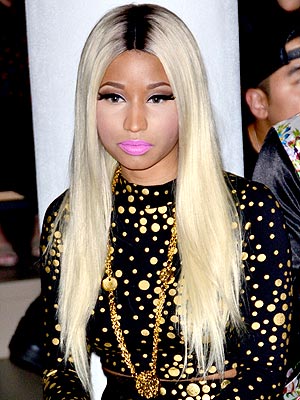 I am so feeling Nicki Minaj sparkling gold look that she snap on at New York City Fashion Week during

designer

Jeremy Scott fashion

show on Wednesday. And Honey did Nicki gave me life. The

Starships Singer

rock her outfit and her look is getting more stylish as we speak. However you will not believe what collection she was wearing...
Click the snap below to find out and see more pics…..
Okay Divas and Snappers, Mi Lady Nicki was wearing her own
collection from Kmart. Yes S
weetie you read that right. Nicki has a clothing collection at Kmart. And it was only right for the Blonde head Barbie to step out in her collection during such a Fashionable Week.
The 30-year-old

has an

creative eye, which lead to all eyes on her. Nicki

style up in a long-sleeved black crop top covered in gold spots along with matching leggings.
The bold ensemble hugged every curve as it display her
midriff, while
her foots hit the floor
with metallic gold court
shoes, top w

ith bright Barbie pink lipstick.
as she arrived at the venue, Milk Studios.
Peep the pics below...
Do you like Nicki Gold Sprakles
,
Leave Comments Below?