Funny Snapper Kevin Hart is joking his way in Hollywood as he have funny up the cover of Ebony Mag
April issue .
Kevin Hart currently is the hottest comedians out right now has
dish to the magazine about r
omance,
his family life, and his thoughts on the government and why he never makes gay jokes, and all through the funny talk the Jokester
revealed
he has does has a very serious side, which we believe it would be hard for us to take him
serious. Please scroll below to peep Kevin interview: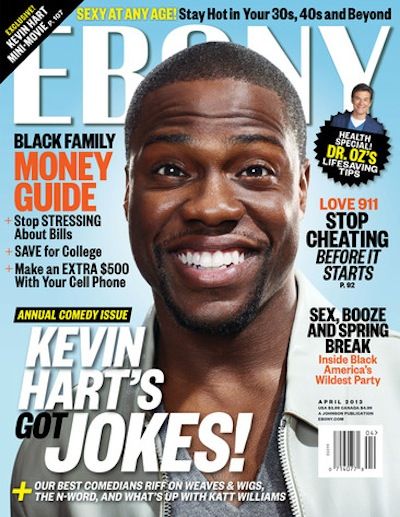 Being serious around family members and his lady:
"Regardless of how much I joke and play around, my family and my lady don't respect that about me. I'm serious, because I'm responsible for their well-being. I take that very serious. When it comes time to get naked, I'm serious there, too."
On relationships and lying:
When I was married, I definitely went through a lying period. I just turned into a liar, but you learn from your mistakes. Being that guy once upon a time has helped me develop into the man I am now, and I approach relationships in a completely different manner."
On why he doesn't crack gay jokes:
"The repercussions for saying certain words are harsh, and careers have been shut down. I can understand how people could be affected by certain words and slurs. I get it. My way of showing respect is to not play around with it, not mention it, not joke with it at all. I understand how serious it is."
On how he feels about making fun of the government:
"I'm afraid of the government. I watched Enemy of the State. That movie scared the s--t out of me. I keep my mouth shut."
The mag is on newstand now, plus peep Kevin funny stuff on 'Saturday night Live below: