The other day we reported that Amber Rose was in labor due to a pic Dad-to-Be Wiz posted of the Fetal monitor well that was a false alarm, as
Amber posted yesterday that she:

wasn't in labor....yet, and her due date is February 24th.

"
Amber was just attending a final Dr. appointment. Read more below...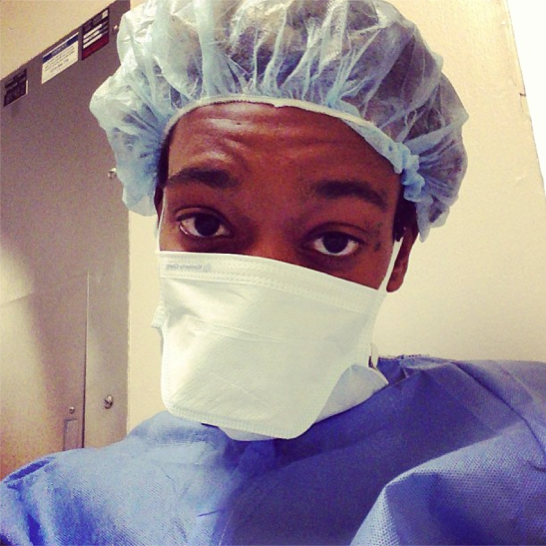 However their some good news today comsidering that Wiz just tweeted a pic of himself styling a scrubs caption:
"

Daddy time

"
which only could mean the little Wiz bundle is making his way into the world, and Amber Rose prehaps is in labor for real this time and we all know that Baby sometime make their way in the world earlier than expected....
Anywho we are wishing them a safe happy delivery!
More Snappin:
Just a hour ago Amber Rose and Wiz Khalifa just welcome their baby boy in the world.
Amber Rose and Wiz Khalifa welcomed their first child, Sebastian Taylor, in Los Angeles on February 21, 2013, the couple confirms via Twitter.
"Happy Birthday!!!"
writes Khalifa, 25.
"Everyone welcome this perfect young man into the world."
The rapper gave fans a hint at the good news on Tuesday, when he posted a photo of a fetal heart monitor to Instagram with the caption "coming soon." The couple had picked out the name for their baby boy in January, telling L.A. radio station Power106 at the time, "it's a total boss name for a boy."
Added Rose, 29, "It's funny because I came up with the name for our boy and immediately he came up with a rapper [nickname] for him."

Congratulations to the happy family!"
Please, Leave comment below?