Diva! Queen! Superstar Bey is snappin everywhere!
Beyonce is for sure getting her riches stronger for 2013... The superstar has been performing and showing up all around the world for lots of popular event. Now Bey is
rocking the pages of VOGUE mag
azine
March 2013, where she is posing pretty and glamorous as usually.
Check out pics of Bey below...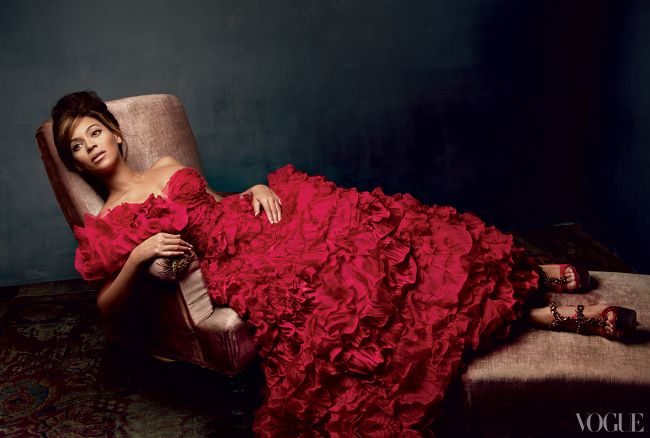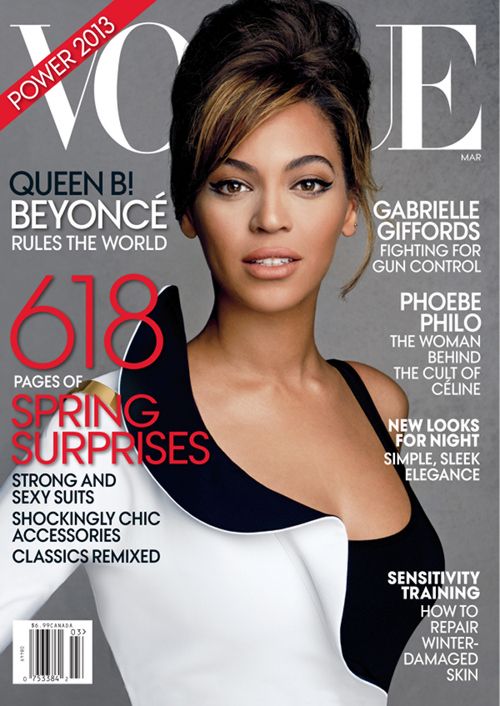 Per YBF: In the issue Bey is talked about being BFF with her 1-year-old baby girl...while ruling the world with her performances at the same time. Oh, and yes...she tries to avoid your comments about her on the internet.
With a BIG Superbowl halftime show performance under her belt, and a World Tour, an album, a sit-down with Oprahand an HBO documentary coming up, this half-billion dollar chick just won't stop. And we love it. Here's excerpts from her cover story:
On her intense relationship with daughter Blue Ivy
"She's my road dog. She's my homey, my best friend. I felt very maternal around eight months. And I thought I couldn't become any more until I saw the baby. . . . But it happened during my labor because I had a very strong connection with my child. I felt like when I was having contractions, I envisioned my child pushing through a very heavy door. And I imagined this tiny infant doing all the work, so I couldn't think about my own pain. . . . We were talking. I know it sounds crazy, but I felt a communication.
I feel like I have something that has grounded me so much more. Family has always been important. I've always had my mother and my father and my husband. But it's just. . . . Life is so much more than. . . It's not defined by any of this."
On having more kids
"When I was younger, there were moments where I said, 'I'm not going to have children.' And then moments when I wanted four. And now I definitely want another, but I don't know when."
Gwyneth Paltrow on Beyonce's maternal instincts
"Blue was sleeping in her arms, across her body, and B was listening back to what she had been working on. I thought, This is how you do it. You do what you love with who you love included."
Gwyneth on her best friend's power
"When she is working onstage, she has more power than any woman I've ever seen. She would never say it and has never said it, but I feel she knows with every fiber of her being that she is the best in the world at her job."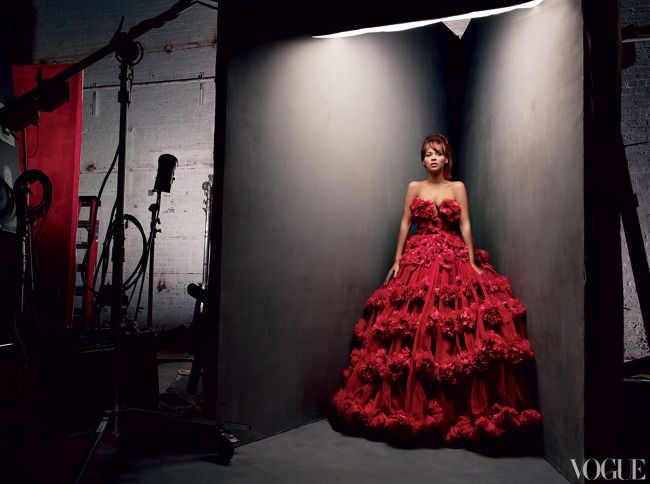 On recording her new album in the Hamptons
"We had dinners with the producers every day, like a family. It was like a camp. Weekends off. You could go and jump in the pool and ride bikes . . . the ocean and grass and sunshine. . . . It was really a safe place."
Excerpt from her HBO Documentary about the decision to split from her father Mathew Knowles
"My soul has been tarnished," she declares—but later, as she asserts her independence and confronts the petty squabbles of the business, she comes around to appreciating her father's hand. "My father taught me so much about being a businesswoman," she says. "And I'm understanding him a lot now. . . . A lot of the crazy things he did were necessary."
On avoiding the comments sections on websites
"Don't scroll down! You're definitely going to get your feelings hurt."
On the perks of marrying Jay-Z
"Just knowing someone's always going to be honest and tell the truth," she says of Jay-Z, "[who] can understand exactly what I'm going through—and I can understand exactly what he's going through."
On why she won't ever get immersed in work again
"At some point it's very important to me that my daughter is able to experience life and run through the sprinklers and have slumber parties and trust and live and do all the things that any child should be able to do."
See more pics from her upcoming issue below: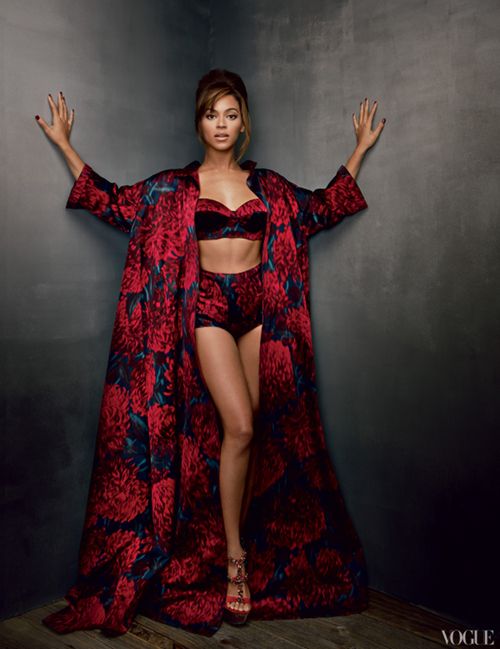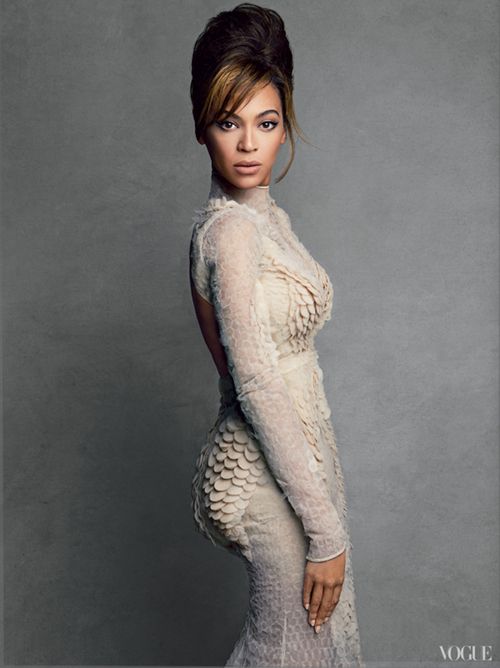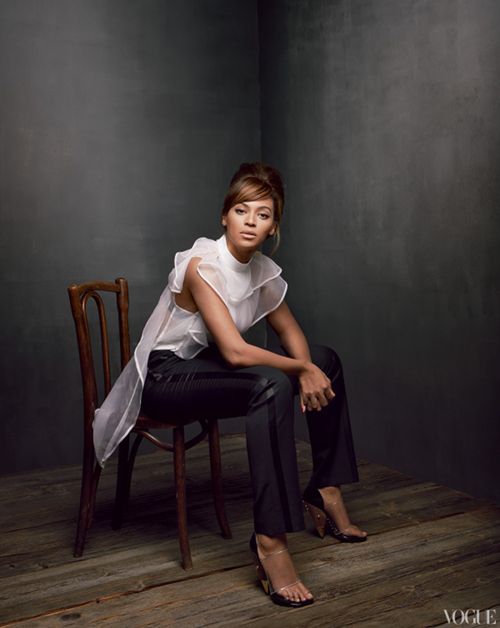 Beyoncé returns to the Superdome to headline Essence Festival with a special performance added to the Mrs. Carter Show World: According to Essence.com,
We are incredibly excited to welcome Beyoncé back to the 2013 ESSENCE Festival line-up. She is truly the ultimate ESSENCE woman," said Essence Communications President, Michelle Ebanks. "If you missed her tour de force in New Orleans, please join us this Fourth of July weekend so that you can experience it live for yourself at the ESSENCE Festival. The ESSENCE Festival features the best in music, culture, arts and entertainment—all of which Beyoncé captures through her extraordinary gifts."
Beyoncé will join previously announced acts Jill Scott, Maxwell, New Edition, Charlie Wilson, Keyshia Cole, LL Cool J, Brandy and
more
for three days of extraordinary music and empowerment. Additional acts will be announced soon.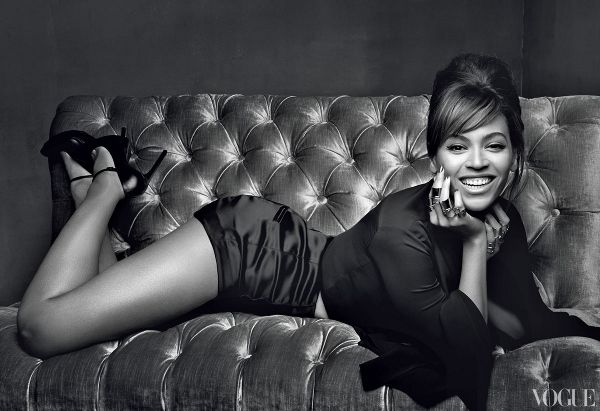 Watch Bey shoot for Vogue vid below:
Click on
read more
below to Watch Bey on Oprah next Chapter...
Oprah
announce
last night on twitter that
Beyoncé
will be the next big name celebrity to sit down for her
Next Chapter
series.
Oprah tweeted:
Can't wait to talk to
. Special
on OWN Saturday night 8/7c
Yea u heard that correctly. BEYONCE and I sit down Saturday nite.
Watch Bey interview on Oprah Next Chapter below..
Thoughts, Leave comment below?