"DONKEY BOOTY" THE ULTMATE WORKOUT DVD.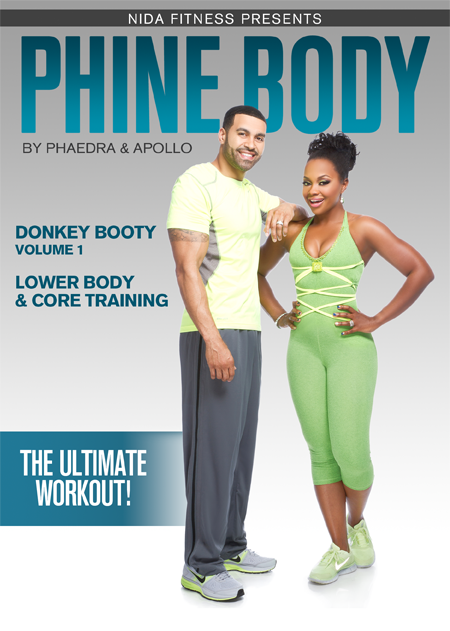 Look like big thang gone be popping with many who want to get fit and look Fab. But for the Divas that wants to get that lower back part of their body right, this just may be the workout you been in search for to get that round shape "Donkey Booty". RHOA star Phaedra Park is a Diva on top of her game from lawyer-hood to morticians' now to the release of her "Donkey Booty fitness DVD.
It had previously been reported that Phaedra Parks and her certified fitness trainer hubby Apollo Nida, were working on a fitness DVD and now the wait is over as you can own it for yourself.

Phine Body

is an enthuse fitness video featuring "Donkey Booty Volume 1″ and "Lower Body & Core Training" that will be Available December 11, 2012.
The donkey booty Diva Phaedra stated that the video is for women who want to stay in
shape without all the hardcore excising:
"Our DVD … while it is a very tough DVD, it's anaerobic vs. aerobic, some parts of it. So with some of those toning exercises, you're not doing hard sweat. You're definitely going to feel it because you're working your muscles, and you're using core resistance, and that's going to give you great results
Phaedra recently told Style Blazer about the tape. "But it's not like you're in a kickbox[ing] class and you're just sweating bullets and you're drenched at the end. The dance routine is the most aerobic of everything because you're dancing. You'll definitely sweat with that," she said.
All booties can be beautiful booties. It's just a matter of toning and lifting them. Some people think donkey booty is just a gigantic booty, but it's not. It's a nice perfect round behind, and anyone can have it."
And for those ladies that are less fortunate in the donk area, the southern Belle Diva says you can get a firm bootie as well:
"You can start off as flat as a board. And if you work the glutes, you can build the muscle, so it has that nice curvy appeal. Do some squats, some lunges, you will really see your legs and your behind just lifting."
*Diva Snap*
TO THE COUPLE ON THEIR "donkey booty" venture...POP THOSE FINGERS!
will you buy the workout dvd,