WTs! why did the KARDASHIAN SISTERS GET KEY TO NORTH MIAMI beach?
Hold up, wait a minute, WTS! Who is responsible for this nonsense? Ain't this a B*tch!
Well we guess so its official the Kardashian's has took over North Miami Beach, and who bright idea this was to give Kardashian sisters let alone Kim for that matter the key to the city. This make us have to question what have they done for the city of NMB, we sure will like to know because we have not heard of anything spectacular lately. So here it goes; you know the snap:
"The

Kardashian

sisters got the key to North Miami on Monday. The city's mayor, Andre D. Pierre, honored Kim and Kourtney Kardashian at the council chambers of North Miami City Hall. Khloe Kardashian didn't come to the ceremony.
The key is being presented to them as an official welcome as they film their reality show "Kim and Kourtney Take Miami" in South Florida. They are renting a home in North Miami while they film the series. "Thank you again for choosing North Miami as your home away from home as you're filming your show," Pierre said.
Pierre said the city was honored that they were there.
"What can we say about the Kardashian's that none of you have not already none? I mean really, when you have one of the most Googled name in the United States of America. I believe it's extremely difficult, if not impossible, to keep anything private, especially when your work is in the area of reality television," Pierre said. Lunch was to be served after the ceremony."
Damn lunch get the Key back quick... Did the Mayor forgot they just got kick off of Miami Beach... Hello! Smh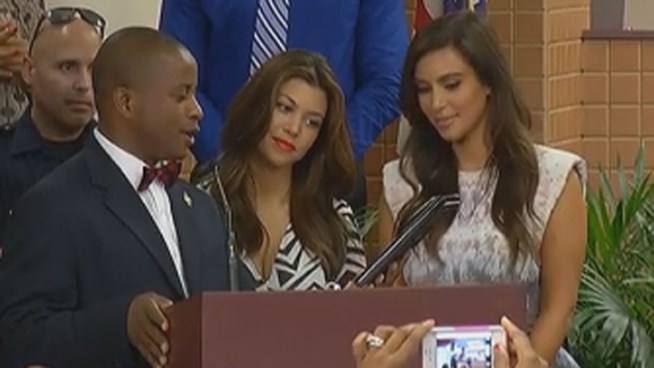 THE KEY TO NMB,
LEAVE COMMENTBELOW?
More Snappin: